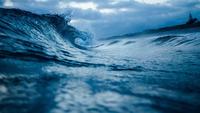 Date: March 2, 2018
Location: Enter at the Main Security Entrance, located on Central Park West at 79th Street. Follow the curved driveway under the staircase.
Time: 7pm
Tickets: $25 ($22, seniors, students); $20 Members
Join the brightest minds in economics, art, conservation, and exploration for Ocean Luminaries, an evening of dynamic discussions and performances by Museum scientists, artists, oceanographers, and entrepreneurs to kick off the special exhibition Unseen Oceans.
This lively event, held under the blue whale in the Milstein Hall of Ocean Life, illuminates the cutting-edge in marine research and inspires wonder about the world's oceans.
This program is made possible by OceanX, an initiative of the Dalio Foundation, as part of its generous support of the special exhibition Unseen Oceans and its related educational activities and public programs.
Meet the Luminaries
Kelly Benoit-Bird; MacArthur Fellow and marine scientist that uses acoustic engineering technology to explore the previously invisible behavior of ocean creatures and behavior of food chains.
Prosanta Chakrabarty; Associate Professor and Curator of Fishes at the Museum of Natural Science at Louisiana State University studying the evolution of both freshwater and marine fishes.
Sylvia Earle; Legendary oceanographer, National Geographic Explorer-in-Residence, author and lecturer with experience as a field research scientist, government official, and director for several corporate and non-profit organizations.
Asher Jay; Designer, artist, and Creative Conservationist. In 2014, she was designated an Emerging Explorer by National Geographic.
Kakani Katija; Principal engineer at the Monterey Bay Aquarium Research Institute researching bio-inspired engineering design, experimental fluid dynamics, and ocean instrument development.
Jodi Lomask; Founder and Artistic Director of Capacitor. Lomask explores non-traditional combinations of arts and sciences through movement.
Wallace "J" Nichols; Scientist, activist, community organizer and author who works to inspire a deeper connection with nature.
Estefania Rodriguez; Associate Curator in the division of invertebrate zoology at the American Museum of Natural History.
Mark Siddall; Curator in the division of invertebrate zoology at the American Museum of Natural History.
Jill Sobule; American singer-song writer. She has over 11 albums and more than two decades of recording and performing. Jill will share an original set inspired by the Milstein Hall of Ocean Life.
John Sparks; Curator-in-Charge, Department of Ichthyology, Division of Vertebrate Zoology at the American Museum of Natural History and Curator of the upcoming Unseen Oceans exhibition.
Rashid Sumaila; Professor and Director of the Fisheries Economics Research Unit at UBC Fisheries Centre. He specializes in bioeconomics, marine ecosystem valuation and the analysis of global fishing issues.
Tierney Thys; Marine biologist, science educator, and National Geographic Explorer. She studies the behavior of the Mola mola, or giant ocean sunfish.
Cindy Van Dover; Professor of Biological Oceanography at Duke University and former ALVIN pilot. She is a deep-sea biologist with an interest in ocean exploration and the ecology of chemosynthetic ecosystems.