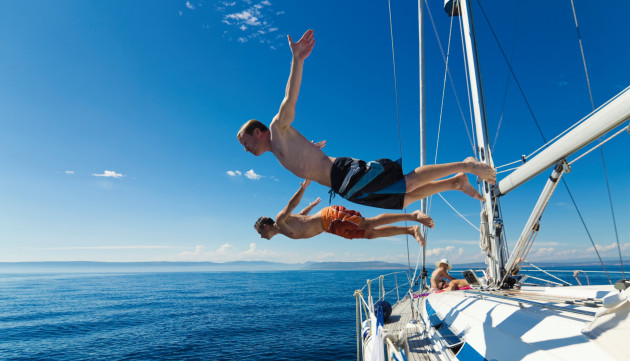 Being in, on and around water is good for us, says Darren Vaux, not least for the mental health benefits it delivers.
I recently had the opportunity to read the book, Blue Mind by Dr. Wallace J Nichols (Search 'Blue Mind' on Google) which was introduced to me by the NMMA's Discover Boating team. The core premise of the book is that being around, on or in water has profound effects on our minds and sense of well being. It is a counter to the daily 'Red Mind' which is characterised by stimulation, connectivity, stress, anxiety and fear.
The Blue Mind (experienced when interacting with water in nature) on the other hand is a mild, meditative state reflecting calm, peacefulness and a sense of general happiness. Could this mean that boating is the tool and pathway for dealing with all of the stresses of modern life? Maybe.
Modern life is intense and with that intensity comes inherent over-stimulation, stress and anxiety. Connectivity has created flexibility but at the same time it has reduced or in some cases eliminated the ability to switch off. In a short time (less than a decade) we have, as a society, become addicted to our digital devices and spend inordinate amounts of our days connecting on email, social media and browsing. This activity has created new business models and changed consumer behaviour. It has created an expectation of immediate response and increased competition.
Traditional media, social media and politicians alike trade in outrage and fear as a catalyst for action. Consumer reviews are not curated and businesses are easily criticised by faceless people with little right of rely. To keep ahead of the game requires connectivity, diligence and attention. The system is designed to keep our attention 24/7 and keep us in the Red Mind state. It is exhausting. It inhibits our brains' abilities to develop creativity and growth.
It would appear, however, that the solution is simple: turn off your phone and go out on the boat. It is certainly worth a try but there is another issue we need to discuss first.
Living the boating life
I have been surprised by how many people I meet in the marine industry who either don't own a boat or go boating. Is that you? I personally find this somewhat concerning as to me it would be like going to a restaurant where the chef isn't interested in food. Boating is a passion and those of us who work in this industry recognise the challenges and opportunities the industry has to offer. It's a serious business but at the same time it is a great lifestyle and one of our challenges is to demonstrate this to young people and nurture them into our industry and provide them with career pathways once they are here. It's not just a job, it's a way of life and perhaps we have to do more to build this culture within our industry so we can share it more credibly.
So what are the benefits of the Blue Mind state achieved through boating? According to Dr Wallace the mere sight and sound of water can promote wellness by lowering cortisol, increasing serotonin and inducing relaxation. At the same time, cortisol goes down reducing stress. The reduced stimulation of being around water gives our brains a break and helps us restore and reconnect. Water appeals to our senses and sparks creativity. Our brains are also drawn to blue above all colours.
Other research also shows that being immersed in water also creates a physiological effect that induces calm. When a body is immersed in water, our heart rate reduces as our cardiovascular efficiency increases. The weightlessness reduces the stress on the muscles and joints. In calm water it is easy to relax. Anyone who enjoys boating has known these effects anecdotally. The science is just catching up. What I find particularly interesting is that the multi-billion dollar health supplements/vitamin industry seeks to also deliver these outcomes in pills. We clearly need to do a better job of selling the dream as the effects of boating are not new, just quantified.
So it would appear that if you want to live a long, healthy and happy life you just need to turn off your phone, leave your digital devices ashore and head out on the boat and swim, fish, ski, sail or just read and relax. There is no better time than 2019 to promote these benefits; with political and economic uncertainty who wouldn't want a pathway to the Blue Mind? Perhaps the best place to start is with ourselves.
About the author
Darren Vaux is a director of the Boating Industry Association, vice president of the Marina Industries Association, executive committee member of ICOMIA, director of the award-winning Empire Marina Bobbin Head in Sydney, and the Australia, NZ and Pacific Islands representative for bedsonboard.com.
This article was first published in the January-February 2019 issue of Marine Business magazine.
Read more here.