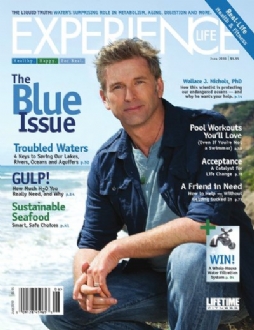 By Laine Bergeson (@LaineBergeson)
Marine biologist Wallace J. Nichols, PhD, is a scientist, educator, author and conservationist, but he describes his occupation in straightforward terms: "I work for the ocean."
Since 2003, the 42-year-old has been a research associate at the California Academy of Sciences and codirector of Ocean Revolution, a global network of young ocean activists. The author of more than 50 scientific papers, book chapters and popular articles on sea turtle ecology and ocean conservation, Nichols advises graduate students across the world. He is passionate about bringing people together to appreciate and protect a part of the earth that is far more vulnerable than it seems.
"There's the perception that the ocean is just so big, so boundless, so inexhaustible that we can put anything we want into it and it will just take it away; that we can take as much as we want out, and it'll just keep on giving," says Nichols.
"That is the way it has been for most of history, but we've reached the limits of that idea. Our actions, wherever we are, matter to the future of the ocean. And the future of the ocean matters to us."
Indeed, water plays a vital role in human health, says Nichols, in no small part because humans are made mostly of water — water that, in mineral composition, is comparable to that found in the sea. "Every cell in our body has both salt and water in it," says Nichols. The salt in our bodies, he explains, "is the same salt — salt from the earth — that fills the ocean."
Our entire biosphere also relies upon the ocean, which plays a critical role in moderating global weather patterns and in supporting global food and water supplies.
"The fates of oceans and humans are inextricably tied," notes Nichols. And yet most of us are largely unaware of the threats that are currently putting the planet's oceans at risk. Unlike the results of deforestation, mining and smog — where damage is quite visible and easily witnessed — ocean damage is often nearly imperceptible to a land-based public. As a result, it rarely rises to the top of most people's environmental concerns.
That needs to change, says Nichols, or essential ocean systems that are today "on the edge of extinction" will soon be gone forever. (For more on key water issues and their impact on human well-being, see "Troubled Waters.")
Nichols has long been an ocean activist, and over the past few years he has created three separate projects to help combat the ocean's visibility problem and remind people "to commit random acts of ocean kindness."
The Blue Marbles project (www.bluemarbles.org) is a viral, grassroots initiative that encourages people to find and circulate blue glass marbles among their friends, along with a reminder to care for the ocean. (Nichols estimates that more than 100,000 recycled blue glass marbles are already circulating.)
SEEturtles.org promotes conservation tourism and offers tourists resources for traveling in a way that directly supports sea turtle protection efforts.
And with sound artist Halsey Burgund, Nichols created OceanVoices.org, an online art and conservation initiative that enables people to record their personal stories about the ocean and upload them to the site.
Burgund and Nichols are collecting the stories to mix to music and create audio collages that listeners can download. To date, more than 500 people have recorded ocean stories and uploaded them to the site.
Nichols's own fascination with marine life began early. As a child, he spent his summers on Chesapeake Bay. It was there that he fell in love with the ocean, and when he found out he could study it as an adult, he says, he immediately recognized his professional calling.
Nichols earned a master's of environmental management from Duke University and a PhD in wildlife ecology from the University of Arizona–Tucson. He spent several years as a senior scientist at the Ocean Conservatory in Washington, D.C.,
and has been a research associate at the California Academy of Sciences in San Francisco since 2000. He lives on California's Slow Coast with his partner, Dana, and their daughters, Julia, 5, and Grayce, 8.
But even for those who have visited the ocean only once or twice in their lives, personal ocean stories abound, notes Nichols. He speculates that this can be explained in part by the well-established ties we have with it, both biologically and physiologically. Yet, humans also have an equally important emotional connection with the ocean that is less easily defined.
"When you look throughout history, you see that connection described in art and literature and poetry," says Nichols, who is currently writing a book on the subject. "As a scientist, I'm told, 'Don't talk about emotions. Be an unbiased observer.' But that's impossible."
On the contrary, Nichols would like all of us to know the earth's watery worlds more subjectively and to feel that personal connection more acutely for ourselves. There's no amount of scientific or economic data, he notes, that can take the place of experiencing the ocean's mystery and beauty firsthand. And it's only by authentically caring about the ocean's systems that we can hope to preserve the tenuous lifelines that support both its well-being and our own.
Laine Bergeson is an Experience Life senior editor.