In a world of "tech neck," social media, and constant connection, it's far too easy for kids to overlook nature's beauty. Beyond being a welcome change of scenery from screens, ponds and outdoor play offer a multitude of other unique benefits for young minds. And now that much of our country is practicing social distancing, it's even more important to connect with nature.
What's the Problem?
Research from the National Recreation and Park Association (NRPA) shows that kids are spending less and less time in the great outdoors. On average, children only spend four to seven minutes of the day in unstructured outdoor play. Compare that to the seven and half hours, on average, that they spend in front of electronic media. The lack of physical activity could put children on the fast track for chronic diseases, including obesity. In 1980, 7 percent of children aged 6-11 were obese. In 2010, that figure had climbed to nearly 18 percent. The NRPA notes that this could create a troubling national trend for the future of conservation as well as health and wellness.
Fortunately, there are easy ways to turn this trend around – and now is the time to take action. Having access to a water feature, and the great outdoors in general, affords great ways to get kids outside and moving!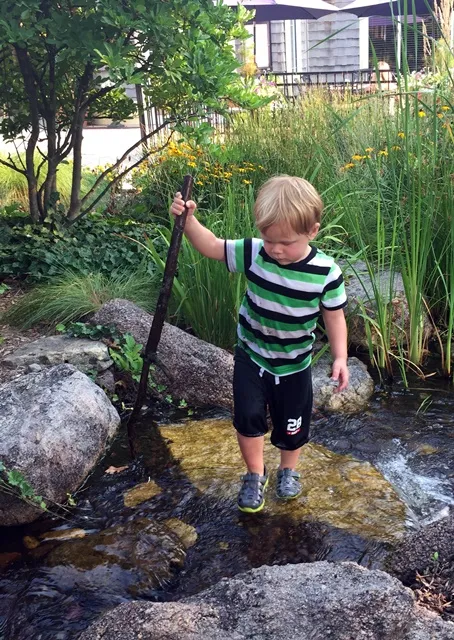 Nature Does a Body Good
Simply being in an outdoor setting benefits developing minds and bodies, especially when contact with their friends is limited – like the world's current pandemic. According to the American Academy of Pediatrics, outdoor play allows children to use all of their senses, which in turn helps them build skills such as spatial awareness and balance. It can also help improve their attention span.
Additionally, studies have shown that outdoor time
Helps make children lean and strong,
Enhances imagination and attention span,
Decreases aggression, and
Boosts classroom performance.
A policy statement from the American Public Health Association noted that people of all ages and abilities enjoy greater health and well-being when have nearby nature in parks, gardens, greenways, schoolyards, and playgrounds as well as natural landscaping around homes and workplaces.
Other benefits of spending time outdoors include:
A confidence boost. Playing outside is a lot less structured than playing indoors, giving kids their power to control their own actions and adventures.
Creativity and imagination. The great outdoors allows kids to think more freely, design their own activities, and approach the world in their new and creative ways.
Responsibility. Children who are tasked with caring for a living thing, such as a plant or fish, learn what happens if it's neglected or not cared for properly.
Unique stimulation. While nature seems less flashy and high energy than a video game, it does an amazing job of stimulating the senses. Kids can see, hear, smell, and touch outdoor environments.
"Blue Mind"

Marine biologist Wallace J. Nichols coined the term "blue mind" to refer to the calm, peaceful sense of happiness that is triggered by being in or near water. Being around water gives our overstimulated brains and senses a rest. Creativity thrives in this relaxed state, as the brain is able to make new and unusual connections because it is not overly distracted by visual and auditory stimulation.

Read more here