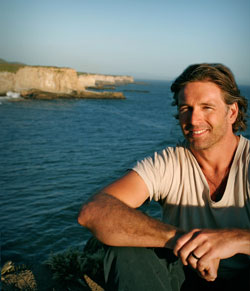 October 23, 2008, Greencastle, Ind. - Wallace J. Nichols, a research associate at California Academy of Sciences and 1989 graduate of DePauw University, "plans to petition the Mexican government to create an ocean preserve limiting fishing in the waters off Playa San Lazaro, similar to the reserves in place off of the California coast," reports the Santa Cruz Sentinel. Dr. Nichols and a fellow scientist "have pinpointed a Baja California beach as the sandy graveyard of more dead sea turtles than anywhere else in the world, and they blame poor fishing practices for the deaths."
Nichols will travel to Mexico City next week to request that government officials "create an ocean preserve to limit fishing off Baja California Sur to help stop the turtle deaths," reports Genevieve Bookwalter.
"Our goal is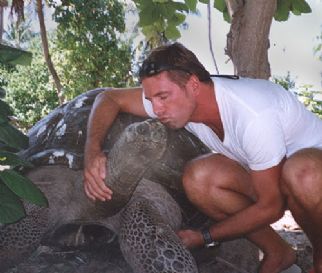 to convert that knowledge into some kind of action that makes that part of the ocean safer for animals," Nichols tells the newspaper. "We weren't counting them just for the heck of it. There was an agenda, and that was to make sure these animals don't go extinct."
The story notes, "Nichols and UC Santa Cruz graduate student Hoyt Peckham have spent the past five years counting dead loggerhead sea turtles along the 43- kilometer Playa San Lazaro, near Lopez Mateos in Baja California Sur, Mexico. During that half-decade, researchers counted nearly 3,000 loggerhead carcasses on the beach. Peckham and Nichols estimated that the two fishing fleets in nearby waters killed 1,500 to nearly 3,000 loggerhead turtles each year. Those deaths were caused by long lines and gill nets on the sea floor, Nichols said, which hook or trap the turtles and stop them from surfacing to breathe."
Read the article in its entirety at the Sentinel's Web site.
Nichols, who goes by his middle initial, is seen in Leonardo DiCaprio's documentary, The 11th Hour and was one of nine "eco-all-stars" cited in the March 2008 issue of Outside magazine. Read more about him in this recent story.