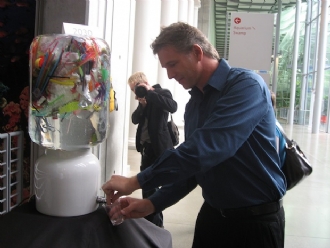 June 8, 2010, Greencastle, Ind. — "What happens when you bring together an artist, a marine biologist, and two futurists for an interactive art installation?," aks Fast Company. "The answer, on display this week at the California Academy of Sciences in San Francisco, is Plastic Century, an installation created for the 100th birthday of Jacques Cousteau. Designed by artist Sarah Kornfeld, oceanographer Wallace J. Nichols, and futurists Stuart Candy and Jake Dunagan, the display explores the relationship between people, plastic, and the environment." Nichols is a 1989 graduate of DePauw University.
Ariel Schwartz writes, "Plastic Century asks onlookers to drink water from four different coolers, each filled with bunches of plastic. But there's a catch -- the four coolers are labeled by year, extending from 1910 all
the way through 2030. And, unsurprisingly, the amount of plastic in each cooler rises along with the date."
The story is accompanied by two photos of Dr. Nichols, including the shot at right, which shows him at one of the coolers. Access it at the magazine's Web site.
A marine biologist, Nichols is the founder of Ocean Revolution and a research associate at the California Academy of Sciences. He returned to DePauw on May 23 to deliver the principal address to the University's Class of 2010, "You Are Lovers and Fighters."

[Download Audio: "Commencement Address by J. Nichols '89" - 13,812kb]
J. Nichols (he goes by his middle initial) is responsible for pioneering research on the migration of sea turtles. His work has been featured in National Geographic, Scientific American, TIME and Newsweek, and he was seen in Leonardo DiCaprio's documentary, The 11th Hour. Nichols was cited as an "eco-all-stars" by Outside magazine and was recently named one of the "Greatest Ocean Heroes of All Time" by the Daily Green. He is a regularHuffington Post contributor and is featured on the cover of the June 2010 issue of Experience Life magazine.