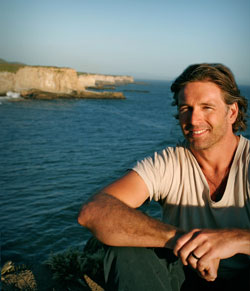 April 7, 2010, Greencastle, Ind. — Wallace J. Nichols, a scientist responsible for pioneering research on the migration of sea turtles and 1989 graduate of DePauw, will deliver the primary address to the Class of 2010 at the University's 171st commencement. The ceremony will take place on Sunday, May 23, at 1 p.m. (EDT) in Holton Memorial Quadrangle. In the event of inclement weather, the proceedings will be moved indoors to the Lilly Center.
Dr. Nichols also will be presented with an honorary Doctor of Science degree at the event.
J. Nichols (he goes by hismiddle initial) is a research associate at the California Academy of Sciences and is the chief force behind The Ocean Revolution, a program that inspires, involves and mentors the next generation of ocean conservation leaders. His work has been featured in National Geographic, Scientific American, TIME and Newsweek, and was seen in Leonardo DiCaprio's documentary,The 11th Hour. Nichols was one of nine "eco-all-stars" cited in the March 2008 issue of Outside magazine.
(photo at right by Neil Osborne)
Nichols majored in biology at DePauw and later earned a master's degree from Duke University's Nicholas School of the Environment and a Ph.D. from the University of Arizona in wildlife and fisheries science and evolutionary biology.
In 1998, he founded the Grupo Tortuguero, an international grassroots movement dedicated to restoring Pacific sea turtles and tosustainable management of ocean fisheries. In 1999, he co-founded and for five years directed WiLDCOAST, an international conservation team dedicated to the protection of coastal wilderness. At WiLDCOAST, he and a diverse group of partners organized fishermen to protect endangered sea turtles and helped coastal ranchers protect their shores for future generations. In 1996, J. Nichols became the first researcher to attach a transmitter to a Baja sea turtle and track it as it traveled from Mexico to Japan. That event was highlighted in 2007 by PBS' Nature, in a show titled, "Voyage of the Lonely Turtle." In 2003, Nichols and eight others trekked 1,900 kilometers along the coast from Oregon to Mexico to bring attention to coastal and ocean issues.
Good Times, a weekly newspaper in Santa Cruz, California, describes J. Nichols as "a soulful creature and an ecological patriot. But don't let the cool blue eyes fool you. The man's on fire. And as a staunch advocate for helping restore the damages already done to the world's oceans, he's clear about one thing: Healing the planet isn't going to happen by using a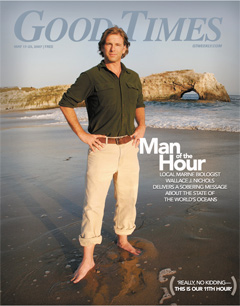 verbal bandage."
Dr. Nichols is the author of more than fifty scientific papers, book chapters, and popular articles. In addition, he was a scientific adviser and writer for the children's book,Chelonia: Return of the Sea Turtle, and co-authored the screenplay Adelita's Journey based on the true story of one loggerhead sea turtle's epic twenty-four thousand kilometer migration from Japan to Mexico and back again.
He serves as a board member for several ocean protection organizations, including Animal Alliance, Coastwalk, Drylands Institute, Oceana and Reef Protection International. The scientist also has roles with universities and organizations that are working to advance ocean protection, including ProPeninsula, Duke University, Blue Ocean Institute and the IUCN Marine Turtle Specialist Group.
On October 5, 2007, J. Nichols returned to his alma mater to speak at DePauw Discourse 2007: Sustainability and Global Citizenship (which also featured remarks by Robert F. Kennedy Jr.). When it comes to conserving resources and preserving the environment, he told the audience,

[Download Audio: "Charging Ahead" - 349kb] "There's a personal connection that has to be made. This isn't just bottom line, dollars and cents.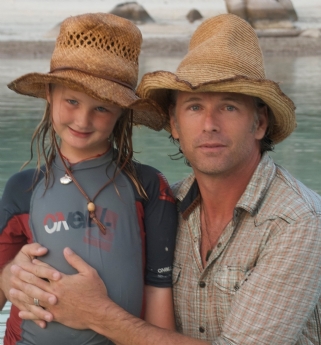 It takes leadership, and that leadership involves ethics and involves just doing the right thing and knowing what the right thing is and taking a leap and being first, or second, or even third." Nichols added, "At the CEO of Wal-Mart and Starbucks level, and at the head of the fishing co-op level in Mexico, or just the head of a household level, or just at the individual level, it's ultimately the same thing. There's a moment where you say, 'You know what? This is important, this is the right thing and I'm just gonna do it. And I'm gonna charge ahead." (at left: Nichols with his daughter, Grayce; photo by Neil Osborne)
For a ninth consecutive year, DePauw will produce a DVD of its commencement ceremonies, which will include footage of each graduate receiving their DePauw diploma as well as a range of bonus materials. Orders are now being accepted at $19.95 for the first disc; additional DVDs sent to the same address will be $8 each (7% sales tax will be added to Indiana orders). An online order form is available here; you can learn more about the disc inthis article.
For more information on DePauw's commencement, click here.