October 22, 2010, Greencastle, Ind. — "Scientist. Academic. Watchman. Wallace 'J.' Nichols has made a career of protecting the oceans' interests," notes a three-page "advertorial" in the November 2010 issue of GQ. The piece, sponsored by Nautica, "turns a spotlight on Nichols, and his superhero efforts, in order to make a splash for ocean conservation."
Dr. Nichols is a 1989 graduate of DePauw University. He is a research associate with the California Academy of Sciences and founder/co-director of Ocean Revolution and is responsible for pioneering research on the migration of sea turtles.
The ad, which is accompanied by five photos, states that Nichols "isn't your typical citizen of earth. For him, the planet's bodies of water are constantly on the brain, and he believes the fates of the world's oceans and humans are inextricably tied. 'You can thank the ocean for the oxygen in every other breath you take,' he says. Too often folks mistake the oceans' vastness for invincibility. But we do have an impact ... And since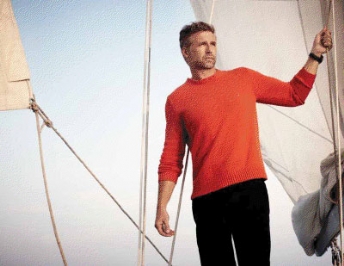 the advent of petroleum, the populations of the ocean's biggest creatures have decreased by 90 percent, according to some experts."
The text continues, "Today, less than one percent of the ocean is protected. And that needs to change. Nichols insists on a more experiential brand of activism, encouraging individuals to encounter the oceans directly, in order to build personal and emotional connections -- to get their feet wet."
The work of Nichols, who goes by his middle initial, has been featured in National Geographic, Scientific American, TIME and Newsweek, and he was seen in Leonardo DiCaprio's documentary, The 11th Hour. He returned to DePauw on May 23 to deliver theprincipal address to the University's Class of 2010, "You Are Lovers and Fighters."
Learn more about J. Nichols in this recent article.