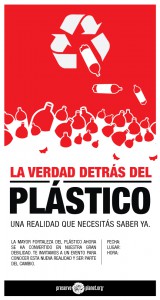 On November 5th 2010, Tribal Truth ran an article about Plastic Pollution Coalition (PPC), outlining their efforts to combat our society's plastic pollution output by spreading awareness of bio-plastics. In the last year, PPC has continued to develop their outreach and education programs, promoting environmental and social change not only here in the U.S. but also abroad.
During a recent trip to Central America with stops in Nicaragua, Costa Rica and Guatemala, PPC members Wallace J€ Nichols, Ph.D, Nancy Buermeyer, and JD Russo presented to media and interested community members about ecological and public health consequences of plastic pollution. A guest of Preserve Planet, G-22, SAVIA, and Jovenes Ambientalistas, PPC worked along side local service organizations, running educational workshops, giving press conferences, and reaching national as well as international newsmakers across the region. PPC , Preserve Planet, G-22, SAVIA and Jovenes Ambientalistas also opened discussions on using art to generate sympathy for the plastic pollution cause.
The trip proved successful, not only in garnering media attention to the environmental hazards of plastic pollution, but also in establishing what seems to be long-lasting ties between the Central American and U.S. organizations. Â With an estimate of nearly 100,000 people reached through this one effort, PPC and their Central American counterparts are already making plans to work together again in the future.
The collaboration between PPC and these groups is a testament to our global interconnectedness: that each of our individual efforts participate in a larger global dialogue. From PPC's progress, we can see that social change is not simply a local debate, but in fact a thread woven into a complex tapestry of global conversation. PPC's success is a reflection of the effectiveness of like-minded organizations uniting for a cause, which is what we are all about  here at Tribal Truth.
To stay in the know with PPC, please visit them at www.plasticpollutioncoalition.org. Also see their Art section where you can purchase a variety of pieces that merge art and plastic together. Â your donation not only gives you a vivid piece of original art but contributes to the continuation of PPC's work.