August 19, 2007, Greencastle, Ind. - "It was an honor to be asked to work with Leo and the producers on The 11th Hour because it offers an intensely honest and thorough look at our planet's most urgent environmental problems and also the real solutions that exist," says Wallace J. Nichols. The senior scientist at the Ocean Conservancy and 1989 graduate of DePauw University, Dr. Nichols is among the experts appearing in Leonardo DiCaprio's acclaimed new environmental documentary film. "Climate change is the most pressing issue we face because it affects most aspects of our environment, including the ocean and its wildlife," adds Nichols.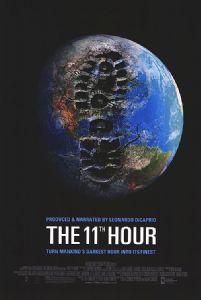 Recently described by Good Times, a weekly newspaper in Santa Cruz, California, as "a soulful creature and an ecological patriot," Nichols asserts, "The message of the film is made very clear: the hope is us, and the moment for change is now."
Nichols' daughter, Grayce, also appears in the documentary. His hope is that she "will grow up on a planet that is healthier and safer, thanks to the solutions inspired by my colleagues in this film."
"We are pleased that Dr. Nichols had the opportunity to lend his expertise in the development of this history-making documentary that addresses dire environmental concerns," notes Vikki Spruill, presidentand CEO of Ocean Conservancy. "Climate change is an ocean problem. The ocean is where climate change impacts are first being felt with higher water temperatures, acidification, rising sea levels and shrinking icecaps. The ocean, in fact, is our first line of defense against climate change because it absorbs enormous amounts of carbon dioxide that would otherwise add to the problem. But sadly, climate change is damaging the ocean environment and its wildlife."
Read more at PR Newswire.
J. Nichols will return to his alma mater for DePauw Discourse 2007: Sustainability and Global Citizenship, October 4-6. The 11th Hour will be screened during the three-day forum, which will also include talks by Robert F. Kennedy Jr. and Bill McKibben, Greg Watson, and others (McKibben and Watson also appear in the documentary).
DiCaprio's film also features Mikhail Gorbachev, who presented an Ubben Lecture at DePauw in 2005, and physicist Stephen Hawking.