"I've devoted my life to saving sea turtles from the edge of extinction," says Wallace J. Nichols, marine biologist and 1989 graduate of DePauw University. The UK's Telegraph examines Dr. Nichols' work and his efforts to form Grupo Tortuguero, which works with fishermen and their families in northwest Mexico to educate them about the benefits of turtle conservation.
"The only people who are going to be able to fix this are the people doing the turtle hunting," says Nichols, a research associate at the California Academy of Sciences.
"Nichols started by insisting that saving sea turtles was in the interest of both sides -- hunters and scientists," notes the newspaper. "The group grew, and meetings began attracting everyone from convicted poachers to government officials, according to Nichols. Projects sprouted up elsewhere, and more than that, wild sea turtle populations and nesting site numbers began to rebound."
It adds, "Nichols continues to advocate for sea turtles and the environment. His Billion Baby Turtles project hopes to protect a billion baby sea turtles in the wild, and his Blue Marbles project seeks to raise awareness of how fragile the earth's ecosystems are by having individuals pass on blue marbles to others as tokens of gratitude."
Read more, and access a video, at the Telegraph's website.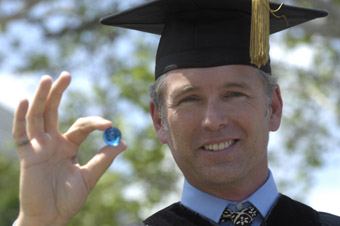 J. Nichols (he goes by his middle initial) has authored and co-authored more than 50 scientific papers and reports and his work has been featured in National Geographic, Scientific American, Outside, TIME and Newsweek, and he was seen in Leonardo DiCaprio's documentary, The 11th Hour.
Dr. Nichols, who was a biology major as an undergraduate, delivered the principal address to the University's Class of 2010, "You Are Lovers and Fighters."