Businesses defend their brand with books of rules, graphic designers, professional communicators, and an army of lawyers. Because they know their brand is valuable. For some, it's everything.
In Mexico and around the world the sea turtle is a symbol of healthy coasts and oceans, responsible fishing, and reconnecting with nature. In a way the sea turtle is a brand too. And each year it becomes more and more valiuable.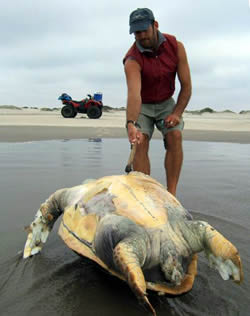 But what is it worth? In the language of money, how much do sea turtles used in non-extractive ways, help the economy. Not only directly through eco-tourism, but indirectly when a sea turtle images is presented in a book, tattooed on a shoulder, printed on a t-shirt or as part of a logo.
It's not an easy question to answer, nor is the flip side: what's lost when a country or region gets a black eye for allowing thousands of sea turtles to die in fishing nets or a major nesting beach to be bulldozed for a marine or mega-hotel?
For those busiensses who have attached themselves to the sea turtle brand there is a clear interest in keeping its positive meaning intact by adding their voice to those working to solve problems such as bycatch and haitat destruction.
The sea turtle image, like the blue marble, has become a powerful and emotionally compelling symbol. The more we understand how to use it wisely as a tool for a healthy planet, the better off both we and the turtles will be.